A Year In France – Episode 33
---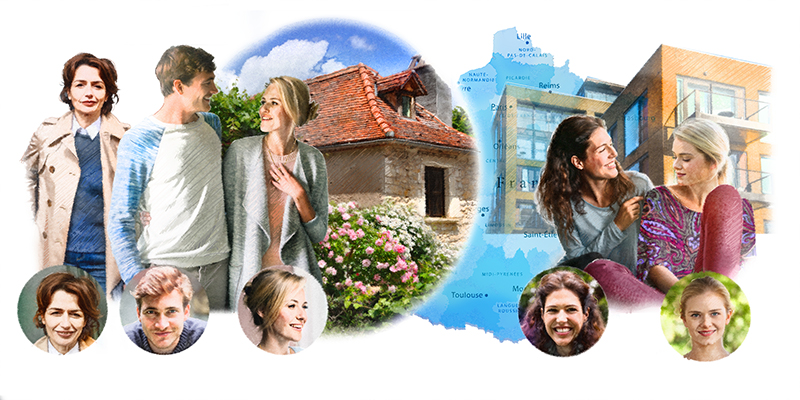 Illustration by Mandy Dixon.
"Brigitte and I are going to have such fun together," Julia said, parking in front of the cottage and patting the steering wheel.
"Who?" Philippe asked, startled.
"My car. Well, she's so pretty, she deserves a nice name."
Philippe laughed.
"Brigitte she is, then."
"Thank you again for making the day so special," Julia said as they went into the cottage.
"Hey, the day's not over yet," Philippe reminded her. "There's still champagne in the fridge."
His mobile rang at that moment and he glanced at the caller ID.
"I think I'd better answer this," he said. "It could be important."
Her own phone's blue light was flashing, indicating a missed call from Maddy.
Quickly Julia pressed a button to return the call and waited for Maddy to pick up.
"Happy birthday. I hope you've been having a great day. Has Philippe been spoiling you?" Maddy asked.
"I've had a truly lovely day," Julia declared. "I've never been so spoiled. I haven't got time right now to tell you everything," she said, as Philippe came into the kitchen, looking serious. "I'll e-mail you tomorrow and tell you all about it."
After ending the call, she turned to Philippe.
"Was it important?"
Philippe nodded.
"Yes. It was Herve with news about the house."
Julia held her breath as she waited for Philippe to continue.
Was the news about the house going to make her birthday complete?
* * * *
Julia sensed it was not good news.
"The owners want to wait to see if anyone else offers the full asking price, so they've turned our offer down for the moment."
Julia's heart sank at Philippe's words.
"Did Herve say how long they intended to wait?"
Philippe shook his head.
"He did say he was taking another couple to see the house at the weekend."
"Our offer wasn't much lower than the asking price," Julia said. "Could we increase it?"
Philippe sighed.
"The problem is I don't have a regular income. Royalties go up and down. The bank have agreed to give me a mortgage, but they've told me they're not prepared to go any higher.
"Paying the asking price would take me above the figure they gave me," he added. "I suppose I could ask Mama for help."
Julia bit her lip.
"Then we've no option but to hope no-one makes a better offer." She hesitated. "There's always my mum's insurance money. I know you've said no once to that, but I really love that house. It just feels so right for us."
"You're using the money for Maddy's agency," Philippe reminded her.
"There's still some left."
"How much?"
When Julia named the figure, he whistled.
"Mum took out an insurance policy years ago," Julia said. "She worried about how I'd manage if anything happened to her.
"When we met, I was thinking of using the money as a deposit on a property of my own. So why can't we use it towards a house for us? It could mean having a smaller mortgage even if we pay the full asking price."
Julia went to Philippe and put her arms around him.
"We are married and what's mine is yours."
Philippe hugged her.
"Mum would be so thrilled to know she was helping us buy our dream home," Julia said quietly.
Philippe kissed the top of her head gently.
"I'll phone Herve and tell him we'll give the full offer price. And we'll be in to sign the papers tomorrow so he can cancel any more viewings."
The next morning Julia insisted they went down to the estate agent first thing.
Before they signed, Herve explained the legalities of what they were doing and the fact that they and the owners had a cooling-off period of seven days.
As she signed her name to the form and worried about the seven-day delay, Julia turned to Herve.
"We can't be gazumped now, can we?"
"Gazumping is something that happens in England, madame. Here in France we don't understand the word."
The disdain in his voice as Herve looked at her was evident, and Julia had to bite her lip to stop herself from reacting.