A Year In France – Episode 32
---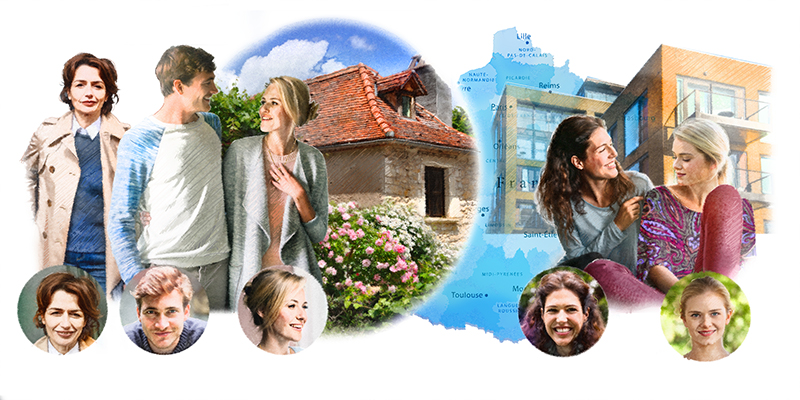 Illustration by Mandy Dixon.
Carefully, he led her out of the front door and on to their driveway.
"You can open your eyes now. Happy birthday."
Julia gasped with delight as she saw the silver car parked alongside Philippe's Jeep.
"You've bought me a car?" she cried.
"I did promise you I would. I'm only sorry it's taken so long to find one I thought you'd like. You do like it?" he added anxiously.
Julia slipped into the driver's seat.
"I love it. Can we go for a drive? I want to get used to it."
"You're driving us up to a village near Roquesteron where I've booked a table for lunch," Philippe told her, smiling. "Let's go."
With Philippe at her side quietly pointing out things she needed to know, Julia began to relax and enjoy the experience of driving her new left-hand drive car for the first time on the narrow roads.
Lunch on the terrace of a popular restaurant, overlooking a slow-running river, was delicious. The sound of cicadas and the noise of the water tumbling over the river stones made for an idyllic location.
Sitting there after lunch, enjoying a leisurely coffee, Julia fingered her pendant and remembered previous birthdays.
She glanced thoughtfully at Philippe.
"I've really ignored my birthday for the past couple of years. I couldn't bear to celebrate it without Mum. It didn't seem right somehow when I still missed her so much.
"She always went to town for my birthday. Made it a special day – just like you have."
Philippe reached across and held her hand.
"I wish I had met your mother."
"I wish you had, too," Julia said. "She would have loved you as much as I do."
She was silent for a moment.
"I felt so guilty after she died. Oh, I know it wasn't me that knocked her off her bike," she said as Philippe went to protest.
"But I did grow up and leave home without a single thought as to how she felt about it."
"It is the natural order of things. Children grow up and leave home," Philippe said gently.
"It was only after she died that I realised she'd kept herself busy to stop herself being lonely." Julia bit her lip.
"Maddy and I tried to set her up with a professor from college one time. We were convinced they'd be perfect for each other.
"Mum didn't agree and told me to stop meddling. She said she was happy doing her own thing and didn't need anyone. And if she did, she'd find him herself thank you very much!" Julia gave a rueful laugh.
"From what you've said before about your mother, I think she told you the truth."
Julia nodded.
"I can't help wondering sometimes what life would have been like if my father hadn't died.
"She normally refused to talk about him, but told me once when I was being a difficult teenager that my father might have been the love of her life but she wished I hadn't inherited his stubborn genes."
Philippe laughed.
"I'm learning to live with that stubborn streak of yours. Come on. I think it's time you drove us home."
Standing up, he held out his hand.
As Julia took it, he pulled her towards him, and kissed her.
"Happy birthday, Mrs Delahaye – and many more to come."