A Year In France – Episode 34
---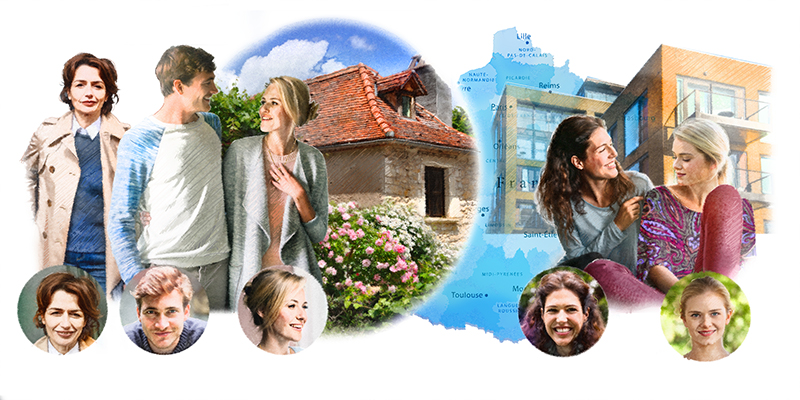 Illustration by Mandy Dixon.
The night before the agency officially opened for business, Maddy slept fitfully.
Worries about whether she was doing the right thing kept her awake for hours. Would the agency attract clients? Would she be able to sell their work?
With her own savings and Julia's help there was enough money in the bank to survive for nine months. She should know by then if it was going to work or not.
Her mind was also busy going over and over the things that Julia had said were in place to start as from today.
The Maddy Matthews Literary Agency would make its appearance on several well-known blogger sites to alert writers to the fact that she was looking to expand her list.
Maddy grinned at the thought. Expand? More a question of getting a list at the moment. But they weren't to know that.
The information Julia had put together for these announcements was carefully worded and simply said Maddy had represented several well-known authors during her career and was delighted to be opening her own agency.
A couple of the interviews Julia had organised were also due out today.
"We need to flood the internet with your name for at least forty-eight hours," Julia had said. And that was what the publicity she'd created was about to do.
A leading publishing magazine had picked up Julia's press release and today's issue would tell the publishing world about the Maddy Matthews Literary Agency looking for clients. The website, Twitter and Facebook pages were all up and running.
After her disturbed night Maddy was awake and in the shower before the alarm went off. She might not have any clients yet, but there was still a lot of work she had to do.
She had breakfast with Dannie and was sitting at her desk by half-past eight, ready to begin work – and the rest of her life.
She found nine e-mails from authors asking her to read their work, including one from Lucinda Edrich, the author of the time-slip novel she had read while working for her old boss.
Maddy read it through carefully before sitting back thoughtfully.
Now that you're opening your own agency, if you are interested in representing me, could we meet to discuss things? You've been highly recommended and I'd really like you to be my agent.
Lucinda said she hadn't received an official offer for representation from Kirsty.
If Kirsty hadn't made Lucinda an offer, then Maddy was within her rights to sign her up. She wouldn't be poaching her or acting unprofessionally.
Before she could change her mind, Maddy replied quickly.
I would be delighted to meet to talk. Not sure where you are in London, but would somewhere central like Covent Garden suit you?
I'm free this Thursday afternoon at three p.m. if that's good for you. Let me know and I'll book a table at one of the cafés.
She pressed Send and tried to curb the excitement she felt at the thought of finding a publisher for Lucinda's novel. If the book was as big a bestseller as she was convinced it could be, the agency would be off to a brilliant start.
It was an hour before Lucinda's reply pinged into her box.
Thank you. Let me know which café and I'll see you then.
Maddy booked a table for afternoon tea at her favourite café, e-mailed the details to Lucinda, and tried to put the meeting out of her mind.
She was reading the first chapter of a promising manuscript at midday when the doorbell rang.
Opening the door, she was greeted with a huge basket of flowers with a red helium balloon wishing her Good Luck tied to the handle.
The card read: Here's to the Maddy Matthews Agency. Love Julia and Philippe.