A Year In France – Episode 35
---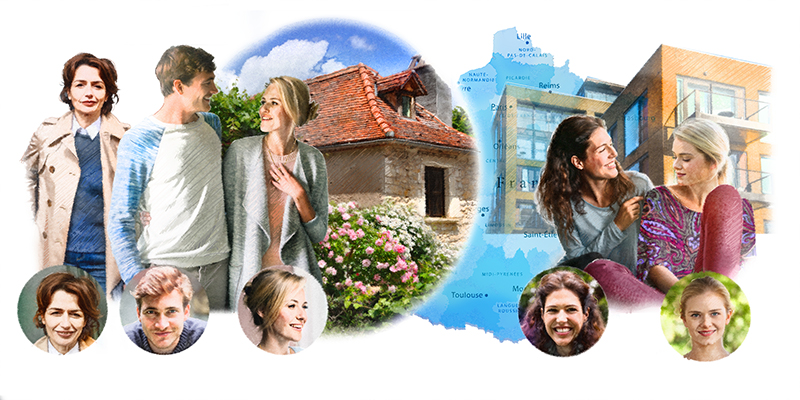 Illustration by Mandy Dixon.
Julia spent the opening day of the agency busily networking online and spreading the word. In the afternoon she called Maddy to hear how things had gone at her end.
"Thanks for the flowers," Maddy said. "It's me who should be sending you flowers, really. You aced the publicity for me today."
"Publicity is my business!" Julia laughed. "It's too early to see any results, though."
"No, it's not," Maddy interrupted. "Lucinda Edrich got in touch after seeing the news and we're having a meeting soon. I've got several manuscripts to read from authors."
"Brilliant," Julia returned. "We'll soon have some names on the Authors Represented page of the website. Don't forget to celebrate tonight."
"I'm going to treat Dannie and myself to a Chinese," Maddy said.
"How are things with Dannie?" Julia asked.
"She's doing great. She has decided to give living down here a go. Her parents are coming to see her soon. Jason, her ex, has turned up, though. She's still not sure how she's going to deal with that."
"I'm sure things will work out," Julia said. "I'd better go and rattle a few pots and pans and get our supper going. Oh, I nearly forgot to tell you my news. We're buying a house!"
"Exciting! I hope it's big enough for visitors," Maddy teased.
"There's always room for you," Julia assured her.
"Send me a photo, and I expect an invite to the housewarming," Maddy replied. "Talk tomorrow."
*  *  *  *
Over the next week, Julia began to establish a routine. Breakfast with Philippe, a quick tidy-up of the kitchen and cottage before walking Tess.
Then she'd return home for a coffee before checking e-mails for anything that needed dealing with urgently, pencilling future events into her trusty Filofax and updating her to-do list.
Despite being so busy, Julia had a spring in her step that had been missing for a while. Nicola down in A Taste Of The Countryside noticed the difference the afternoon Julia went in with her laptop, full of ideas for promoting the shop.
"You're a live wire today," she commented.
"I love being busy," Julia said. "Though it's beginning to feel like there's barely enough hours in the day to fit everything in. Work, the cottage, shopping, Philippe."
"Ah, the joys of being a working wife," Nicola returned with a smile.
"And now we're buying a house. I'm so excited," Julia said. "Right, these are the ideas I've come up with so far for you."
For the next hour the two of them tossed around the various ideas Julia had thought of, with Julia writing phrases down and Nicola translating them.
"This will be good for my French," Julia told her.
Along with the list of people who'd already signed up to receive news about A Taste Of The Countryside, there were photos for Julia to scan and include with the mailing.
"Give me a few days and I'll be back with the final proofs for your approval," Julia said, gathering up her things before heading home. "Everything should be ready to go next week."