Fiction Sneak Peek: December 7, 2019 issue
---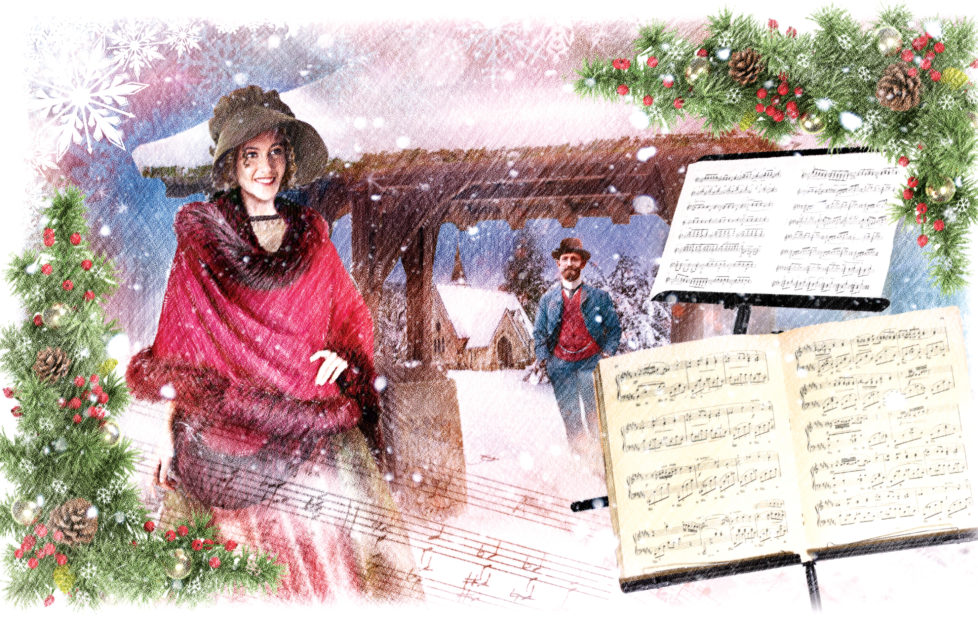 Illustration by Jim Dewar.
Here we go with the sneak peek of the first of our bumper Christmas issues. You'd better make a cuppa and pull up a chair . . .
The first seven
We open with "Rejoice! Rejoice" by Pamela Kavanagh, about a new village quire member, set in 1840.
"A Special Request For Santa" by Eirin Thompson is about an unusual gift, while in "A Time For Giving" by Laura Tapper, Rebecca has a novel idea for encouraging donations to her collection tin. Illustration: Tracy Fennell.
"It's A Wonderful Life" by Ellie Edwards was inspired by the famous James Stewart movie. Why was Henry Potter so bitter? Illustrated by Manon Gandiolle.
In "The Wish List" by Sharon Haston, Amy writes her first letter to Santa since she was seven!
Expecting a baby's a special time, so how's it turning out so wrong in "Baby Blues" by Pauline Bradbury? Illustration: Kirk Houston.
A stolen engagement ring? Best get Glyn and Chrissie on the case in "The Guilty Party" by Val Bonsall. Illustration: Philip Crabb.
Hurrah for "Father Carter And The Festive Protest" by Pat Thornborough. It just wouldn't be a "Friend" Christmas without them. Illustrated by Pat Gregory.
The second seven
It's everyone's biggest fear: a Christmas power cut. How do they cope in "When The Lights Went Out" by Alyson Hilbourne?
Can there be "Goodwill At The Cat Café" when we have a personality clash between two new members? Story by Suzanne Ross Jones.
"With Love From Izzy" — that's the signature on the card that drops through Maisie's letterbox in Nicola Martin's story. But Maisie doesn't know anyone called Izzy . . .
"Connie's Countdown" goes like clockwork . . . until it doesn't, in Eirin Thompson's fun story, illustrated by Manon Gandiolle.
Dinner for one and a dancing Rudolph feature in "A New Tradition" by Barbara Dynes.
"Winter Walkies" is by Meg Hudson. This one's absolutely charming, about a tree in the woods and how first one bauble, then another appear . . .
"Growing Pains" by Glenda Young is about a moody teenager. Uh oh — that could spoil Christmas for everyone. Illustration: Tom Jellett.
Two very different sisters fighting for a shared cause feature in "An Independent Woman" by Hilary Spiers, illustrated by Manon Gandiolle.
And we finish our fabulous festive short story selection with "Murder At Greydon Hall" by Katie Ashmore.
But wait! There's more!
Series
It's Christmas draw time at the "Gazette" office in "Hold The Front Page" by Eirin Thompson.
And a Christmas Eve emergency strikes at the Old Engine Room in "Riverside", our exclusive soap by Glenda Young.
Serials
Our four — four! — serial instalments include the final part of "After The Armistice" by Pamela Ormondroyd, where Ruth and Amber are ready to begin the rest of their lives. Illustrated by Gerard Fay.
Parts 2 and 3 of "A Fairy-tale Christmas" by Jan Snook will immerse you in panto land, where it's all getting terribly dramatic. Illustrations: Ruth Blair.
And we've even squeezed in a brand-new serial: "The Girl From County Clare" by Tony Redcliffe, a superb 19th century tale of love and loss, illustrated by Mandy Dixon.
Phew! That was some sneak peek!
Note: next issue on sale Dec 21. But this one should keep you going for two weeks. Enjoy!