Fiction Sneak Peek: February 1, 2020 issue
---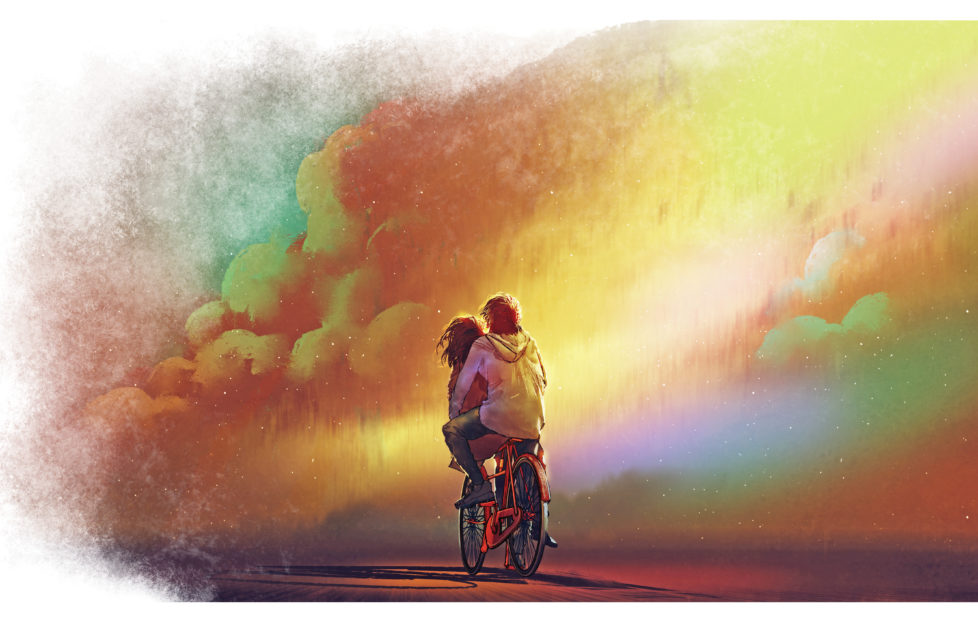 iStock.
This sneak peek starts with cycling off into the sunset . . .
That's how it looks, but is that really what happens in "The Colours Of Home" by Della Galton? Read it and see!
A wartime evacuation gets off to a rocky start in "Old School" by Jan Snook, illustrated by Ruth Blair.
Up next: more schooldays . . . "A Friend Indeed" by Susan Sarapuk begins at a school reunion, but this is a thoughtful study of friendship and what it means. Illustration by Kirk Houston.
A storm and a flood tide — it's catastrophe in "After the Flood". The family has to pack up and leave. But where's Mum? Alison Carter's story is inspired by the true events of 1953.
A crossword grid suggests the answers in "Looking For Clues" by Richard Bonsall, another of his PC Jethro Hammett stories. Illustrated by Martin Baines.
If a place holds good memories, why would Tess be reluctant to go back? The answer is in "Return To The Village" by Lynda Franklin.
A young woman sits on the side of the bath, waiting for her pregnancy test result in "Hope Springs" by Vivien Brown, illustrated by Jim Dewar.
Vivien talks about why she wrote the story in the latest instalment of our Writer Of The Week series.
Serials
You'll find the first instalment of a new serial by Anne Pack. "A Little Patch of Heaven" is set among friends on an allotment, with a family wedding in the offing. That all sounds harmless, doesn't it? If only . . . Illustration by Kirk Houston.
"The Quest For The Dove Tree" by Penelope Alexander continues, with Luke And Caroline arriving at the Mission. Now what? Illustration by Ruth Blair.
Series
"Why not?" the ladies ask in "Living It Up", our new series by Jessma Carter.
The only question in "Riverside" is, who's stealing from the Ship Inn? You can't miss the latest in our exclusive weekly soap by Glenda Young.
If this sneak peek has tickled your fancy, Click here to subscribe to "The People's Friend". That way, you'll never miss any of our fantastic fiction ever again!