Fiction Sneak Peek: June 20, 2020 Issue
---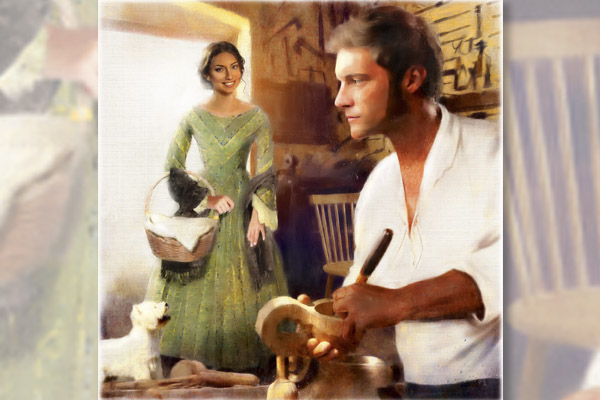 Illustration by Philip Crabb.
Our new issue awaits! Here's a sneak peek at what's inside!
Our opening story is a cracking read. Set in the late 1890s, it tells the story of a set-in-his-ways carpenter who joins forces with an ambitious seamstress.
Can they make their business venture work? Find out in "His And Hers", by long-time "Friend" author Pamela Kavanagh. With a lovely illustration by Philip Crabb (above).
Two friends grab life with both hands in "The Likely Lasses", culminating in an attempt on Mount Everest. By Annie Harris, Hannah Agosta has illustrated this one beautifully for us.
In "Dad's Taxi Service" by Alison Carter, one dad will do anything for his daughters. Of course, they'd never take advantage of his kind nature — would they?
Chris has been having a major clear-out in the house since New Year. When she comes across some old cassette tapes in the kitchen, she can't help wondering — what's on them? Find out in "The Mystery Tapes" by Eirin Thompson, which has a beautiful illustration by Tracy Fennell.
When a member of the darts team is killed with a blunt instrument, Jethro is on the case. "Unusual Suspects" is by Richard Bonsall, and illustrated by Martin Baines.
Gabrielle Mullarkey's "The Right Questions" is next. Becky works in an animal rescue centre, and often the prefers the company of animals to humans! Until a roving reporter turns up, that is. Jim Dewar has illustrated this one for us.
Stefania Hartley's Don Pericle's back, and helping a shy bride overcome her wedding day nerves in "A Shy Bride". Thanks to Helen Welsh for her lovely illustration.
Serials
It's Part Two of "The Ladies Of Kesteven" by H. Johnson Mack this week.
The arrival of new squire Hugh Chesham has put the cat amongst the pigeons, and former governess, Eleanor, is considering her options. Sailesh Thakrar's wonderful Regency illustrations set the scene perfectly.
This week we also feature the exciting conclusion of "Return To Tillakos" by Lydia Jones.  Local businessman Stavrou has a hold over Mayor Panagos — but how? Could the answer lie in the old windmill that Stavrou has plans for?  And will the mystery of all that happened to Jade's father finally be resolved?
Hope you've enjoyed this serial as much as we have — and thanks to Gerard Fay for his illustrations, which have brought the story to life.
Series
In Jessma Carter's "Living It Up", the ladies have an unexpected day out.
And  in Glenda Young's "Riverside", Mike is meeting someone in the Old Engine Room deli, and it's someone important enough for him to wear a tie! Meanwhile, George will do anything to save the land on the riverside from development.
Sneak peek leave you wanting more? Our new issue is on sale soon. Enjoy!
Remember you can subscribe to the "Friend" today, and you'll never miss another issue. Plus, if you're worried about potential delivery issues, you can take out a digital subscription and download every issue straight to your phone, tablet or home computer.