Fiction Sneak Peek: July 25, 2020 Issue
---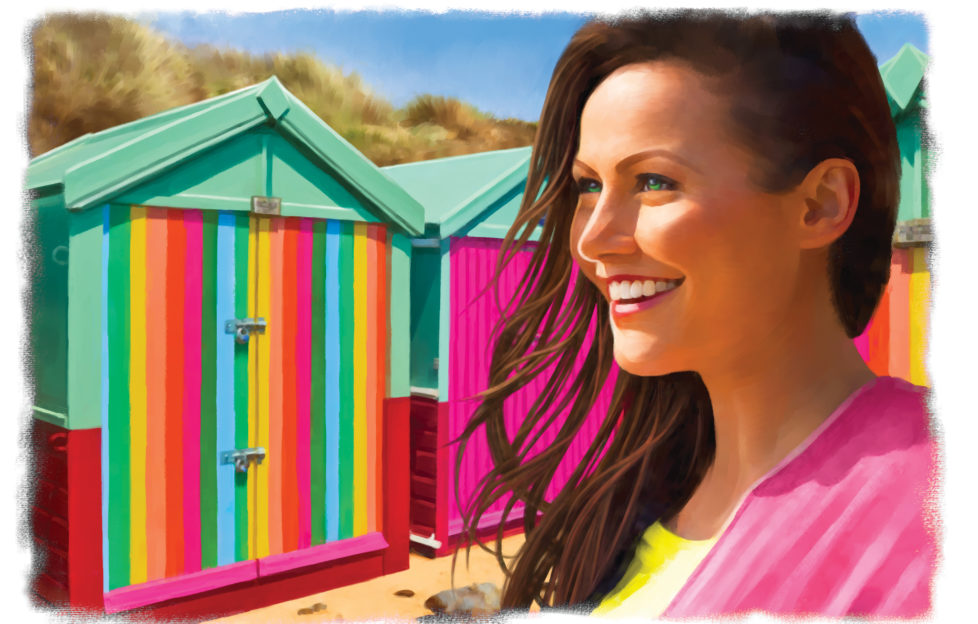 Illustration by Kirk Houston.
Welcome to our sneak peek at the fantastic fiction you'll find in our latest issue!
Stories
This week we start off with a summery family story, "Sun, Sand and Sea". Kirsty assumed that her family had sold her beloved gran's beach hut, until a phone call at work reveals that it's still in the family's possession. Can she bear to part with it? Find out in Teresa Ashby's super story, with this brilliantly bright illustration by Kirk Houston (above).
We travel back in time to 1919 for our second story, "Caught On Camera". Three days before an engagement party, a would-be fiancée's sister senses all is not well. Will the nuptials go ahead as planned? Kate Finnemore's period story is illustrated by Sailesh Thakrar.
"Reading The Signs", by Jennifer Copeland, is a really lovely story about Rebecca, who is hearing-impaired, and who's a bridesmaid at her sister's wedding. Could a romance of her own be about to unfold? Illustrated by Ruth Blair.
Melina and Tanino are back in "Room For Renovation". Tanino's favourite café is closing for renovations, and the prospect of him rattling around the flat for four weeks is causing Melina concern! By Stefania Hartley, and illustrated by Jim Dewar.
Set in 1965, "A League Of Their Own" by Alison Carter takes place in the USA. 17-year-old Betty has no interest in baseball, but younger brother, Paulie, needs to get to the game . . . with a sweet illustration by Sarah Holliday.
"Puppy Love", by Louise May, is illustrated by our Illustrator Of The Week, Philip Crabb. After splitting up with her boyfriend, Kate moves to the seaside to live with her aunt. Once there, she meets a special dog, who helps bring love back into her life . . .
Our final short story this week is the gentle "Weathering It All", by Meg Stokes. A lot has changed over the years since Matt and Chuck first met, but their friendship has stood firm. With an illustration by Jim Dewar.
Series
In Jessma Carter's "Living It Up", Flora meets an old friend – who has news for her…
And in Glenda Young's "Riverside", will Carol accept Joe's proposal?
Serials
We have a new six-part serial this week — "A Debt Of Honour", by Mark Neilson, with illustrations by André Leonard. Shauna has more reasons than most to be nervous about her journey from Australia to Scotland . . .
In the final part of Pamela Ormondroyd's "Chasing The Tide", the coronation isn't the only thing that Rhona and Bryn have to celebrate. Kirk Houston's super illustrations have brought this story to life for us.
Which can only mean one thing – we have another exciting serial beginning next week!
If this sneak peek has left you wanting more, don't worry! Our new issue is in shops soon.
Did you know that subscribers receive their issues early? Click here for more information on subscribing to the "Friend" today. You'll never have to worry about missing another issue again!
Plus, if you're worried about potential delivery issues, we have a great digital subscription available. This way, you can download every issue straight to your phone, tablet or home computer.