Feel-Good Fiction In Special 198
---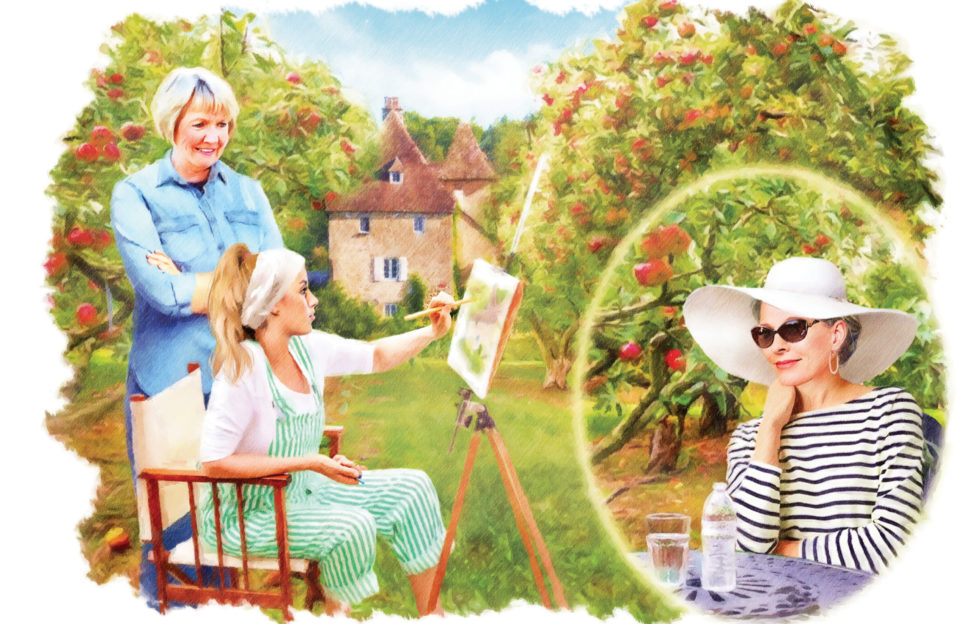 Illustration by Ruth Blair.
We have lots of lovely feel-good fiction — and beautiful fiction illustrations — waiting for you in our latest Special 198, on sale this Wednesday, 30 September.
Our opening story is "Autumn In The Loire", by Katie Ashmore. Talented artist Hayley is recovering from the loss of her mother, and the break-up of a long-term relationship. A stay at the family orchard with grandmother, Meline, could be just the thing to help her find new purpose in life. With a gentle illustration (above) by Ruth Blair.
Lonely Laura's twin suggests downloading a friendship app, to help her make friends. Find out what happens next in Jacqui Cooper's "Getting The Gang Together".
Kathryn's daughter, Millie, isn't getting on with her lab partner. Is history repeating itself? Find out in "Lab Partners", by Suzanne Ross Jones. With a light-hearted illustration by Sarah Holliday (below).
A town works together in Susan Claremont's delightful "A Bid For Change", illustrated by Philip Crabb.
The nostalgic "Make Do And Mend" by Donna A. Hughes is next. Three friends reminisce about 1945, and a unique dress that caused quite a stir! With a lovely WWII illustration by Ruth Blair (below).
And that's not all!
Charlie longs to be like her famous namesake in Patsy Collins' "Food For Thought". With an illustration that's good enough to eat, by Jim Dewar.
We go back to the 1960s for our next story. If ever a place was ripe for redevelopment, it was outdated family business, Farrand's Tea Shop.  But money and success aren't everything, as rival Franchise Manager Moira discovers. Alison Carter's super story is illustrated by Martin Baines.
Flora hadn't thought about old flame, Lorcan for years – until his manuscript turned up on her desk. When a book signing brings them both together, Flora can't help wondering exactly why he broke things off so suddenly, all those years ago . . . Eirin Thompson's poignant short story is illustrated by Martin Baines.
Sandy Salisbury's romantic "Telegram Sam" is set in America. Annie is about to marry Sam, but as the wedding approaches, she wonders if there are secrets he's keeping hidden from his past . . . with a wonderful illustration by Gerard Fay.
Music brings people together in our next story, Laura Tapper's "Unforgettable". Broken-hearted busker Brian misses his beloved Beryl. And then he meets someone who knows exactly how he feels . . .
"For Ever Ted", by Jo Styles, is next. A mum looks back on her son growing up – and the teddy who was with him, every step of the way . . .
. . . and we're still going!
Patsy Collins' intriguing "A Flash Of Brilliance" is next. When Dawn sees mysterious red lights in the churchyard, she wonders: could it be ghosts, or aliens? Kirk Houston has illustrated this story for us.
Violet has been searching the shoreline every day for the past forty years. Find out what she's looking for in Lydia Bailey's "Sea Treasure", with an atmospheric illustration from Shutterstock (below).
Artist Tamsin wins a weekend's painting in the Highlands in our final story, "The Bigger Picture". As well as the stunning scenery, what else will Tamsin discover? Find out in this short story by Valerie Bowes, with a lovely Highland illustration by Philip Crabb (below).
---
Special 198 is on sale now. Click here to subscribe to our Specials and make sure you never miss another issue.
Interested in seeing your story in print? Why not submit it to us? Click here for more information.