Fiction Preview: Special 205
---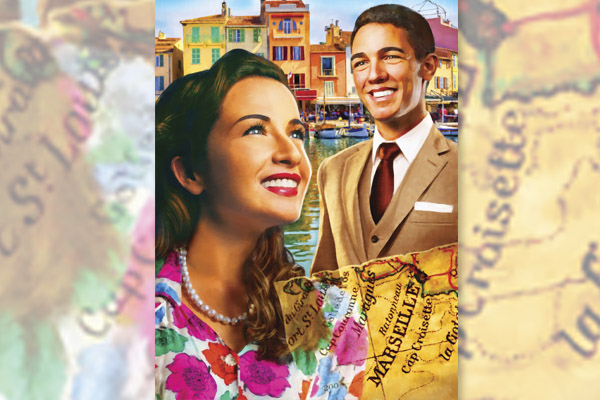 Illustration by Kirk Houston.
Welcome to the sneak preview of the fabulous fiction in our forthcoming Special 205. It's on sale this Wednesday, March 3.
The opener
Our opening story is "The Perfect Girl", by Wendy Janes, with an illustration by David Young (above).
It's 1969 and life is quiet for Tom, working in a gentlemen's outfitters and living in a sleepy village. When he meets a nice girl in the bank, he hopes they might have a future together. But it seems she has a secret . . .
Susan Sarapuk's "The Gift Giver" is next. Mike has fallen on hard times, but finds a kindred spirit in Elinor. With an illustration from the Shutterstock picture library (above).
Pippa has mixed feelings about her neighbour, Adrian, and she's wondering if there's a sell-by date on their friendship! Val Bonsall's "Best Before?" is cheerily illustrated by Sarah Holliday (above).
David has to review a play written by a childhood friend. The only snag is, they fell out years ago. Patsy Collins' intriguing short story "Fair Play" is perceptively illustrated by Ruth Blair (above).
Two old flames are reunited in "Taking Chances", by Kate Hogan. With a spring-like illustration (above) from the Shutterstock picture library.
Nancy is initially reluctant to babysit her granddaughter, but she soon reconsiders her priorities "It Takes A Family". Written by Leonora Francis, with a sweet illustration from Shutterstock (above).
Victorian detectives Inspector Brown and Victoria are on the case in Val Bonsall's "The Scene Of The Crime". Ruth Blair's illustration (above) is the perfect complement.
No one can stop heiress Annabel from pursuing the man of her dreams. Or, can they? Alison Carter's eight-page Long Read romantic adventure, "Flight To France" is set in 1954. Kirk Houston's wonderful illustrations (main pic, and above) capture the spirit of the time.
And there's more fiction to enjoy . . .
In "Make Do And Mend", it's WW2 and Kitty has settled for a cake made of cardboard and a borrowed suit. Is she settling for George, too? Alison Wassell's perceptive short story is gently illustrated (above) by Andre Leonard.
Two friends with different challenges in their lives travel to Mexico for the Spring Solstice, in Katie Ashmore's "Another Sun Rises". With an interesting illustration by Andre Leonard.
Sarah's orphaned father had "A Place To Stay" when he was a little boy during the war. Now Sarah and husband, Tom, hope to pay that kindness forward. Story by Alyson Hilbourne. Illustration (above) by Shutterstock.
A son is life's greatest treasure in Julie Goodall's "The Missing Piece". With a Shutterstock image (above).
Cathy's clifftop cottage is in danger of falling into the sea. But is she the only person in need of being saved? Jo Styles wrote "Life On The Edge" for us. Helen Welsh illustrates.
Alison meets and falls in love with Simon, who's recovering from a broken heart. But is it a forever thing, or a convenience thing? Find out in Eirin Thompson's "The Man For Her", with a sunny illustration (above) by Martin Baines.
The closer
Our final short story of this Special is "A Mind Of Her Own". Jasmine and Carl determine to raise a strong-minded daughter. How difficult could that be?! Alison Carter's observant short story has a light-hearted illustration (above) by Sarah Holliday.
---
And remember if you love our fiction you can subscribe to the "Friend" Special today, to make sure you never miss another issue. In fact, we'll have them delivered straight to your door! Click here for more information.
"Reading Between The Lines", our fiction podcast, is another great source of stories. Check it out today!