Fiction Preview: Special 206
---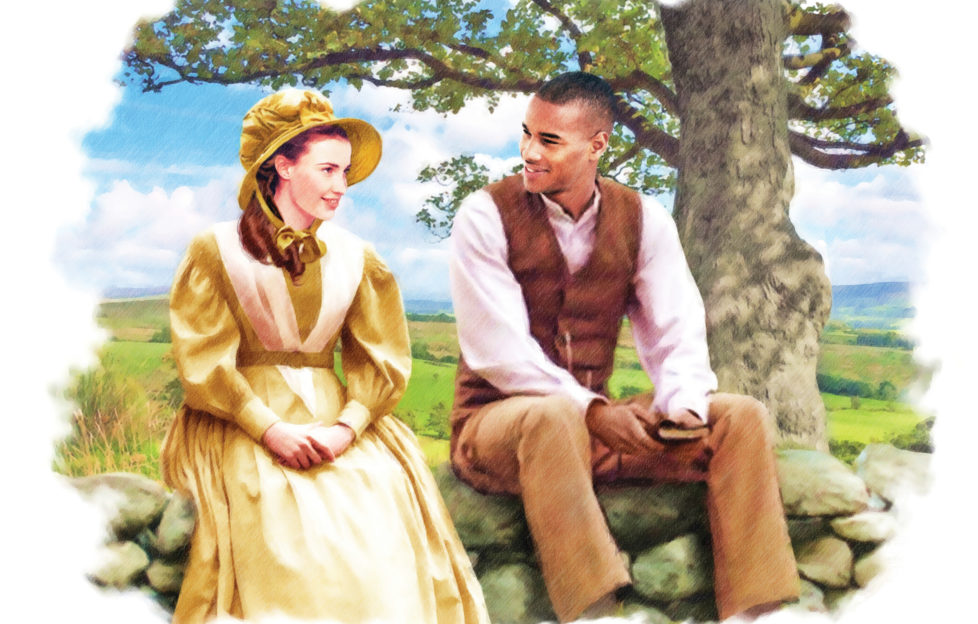 Illustration by Ruth Blair.
Welcome to the fiction preview for our Spring Special, number 206, available this week.
The opener
Spring means new beginnings all around in our moving opening story. For one family, can it mean a fresh start? Mandy Dixon illustrated Deborah Tomlin's "A Way Back" for us.
Old school friends are reunited in our next story, "A Few Kind Words", by Patsy Collins. With an illustration by Jim Dewar.
We have a two-part story for you in this special – "Changing The World", by Gabrielle Mullarkey. Set in 1853, the arrival of a new schoolmaster is causing quite a stir. With lovely period illustrations by Ruth Blair.
It's a story by a debut author next, and it just wouldn't be Easter without hot cross buns and a trip to Cornwall . . . the poignant "Hot Cross Fun", by Polly Grace, has an illustration from the Shutterstock picture library.
Can the future really be revealed? Find out in Liz Filleul's short story, "Who Could Predict?", illustrated by Shutterstock.
A Steinway piano is up for grabs in "A Grand Prize", by Lynne Hallett. But why would anyone want to give it away? With an illustration by Andre Leonard.
We're in 1950 for our next short story – "A Returning Hero", by Keith Havers. Dorothy's brother has come home from the war a changed man . . . With an illustration by Sailesh Thakrar.
In "A Practical Pairing", by Alison Carter, it makes sense for Anna to find a new partner for her kind employer. Illustration by Helen Welsh.
A father is missing in action in Annie Harris's evocative short story, "Look For The Sun" – but in times of darkness, Easter is a promise of new life and hope. With a beautiful illustration by Kirk Houston (above).
And there's more . . .
An old friend plays matchmaker in "Guess Who's Coming To Dinner?" by Eirin Thompson. With a Shutterstock illustration.
Geoffrey wants to help his grandson with his homework, but can he face going back to the place that was so special to his late wife? Barbara Dynes' inspiring "Beside The Seaside" has an illustration by Mandy Dixon.
In Part two of Gabrielle Mullarkey's "Changing The World", change is afoot – but can Alma convince the mysterious Abel to open his heart to her? With a lovely illustration by Ruth Blair.
We're "In The Back Row" for our next story. Sharon hears that an old flame of her husband's is back in town – is that why he's acting so strangely? Fiona Thomson's short story has an atmospheric illustration by Gerard Fay.
In "The Greatest Gift", by Eirin Thompson, Lois worries about her upcoming 11th birthday party. Everyone else's parties are so extravagant – what will they think of hers? With a gentle illustration by David Young.
A new business is causing a stir in "A Drop Of Nectar", by debut author, Ann Ridley. Just who is the surly new man across the road, and why does he only ever ask for cake? Illustrated by Sarah Holliday.
A daughter meets her mother for the first time in Gabrielle Mullarkey's powerfully moving story, "Delicate Roots". With an illustration by Sailesh Thakrar.
New neighbours come calling in "Happy House-warming", by Linda Lewis, which is illustrated by Shutterstock . . .
. . . and there's something fishy going on in "Show Me The Cats!", by Liz Filleul.
An eventful holiday is recalled in Alyson Hilbourne's humorous "Testing The Water" . . .
The closer
…and a piece of history is discovered in the mysterious "Together At Last". Ruth Blair illustrated this Alyson Hilbourne story for us.
---
And remember if you love our fiction you can subscribe to the "Friend" Special today, to make sure you never miss another issue. In fact, we'll have them delivered straight to your door! Click here for more information.
"Reading Between The Lines", our fiction podcast, is another great source of stories. Check it out today!