Fiction Preview: The "Friend" Christmas Special
---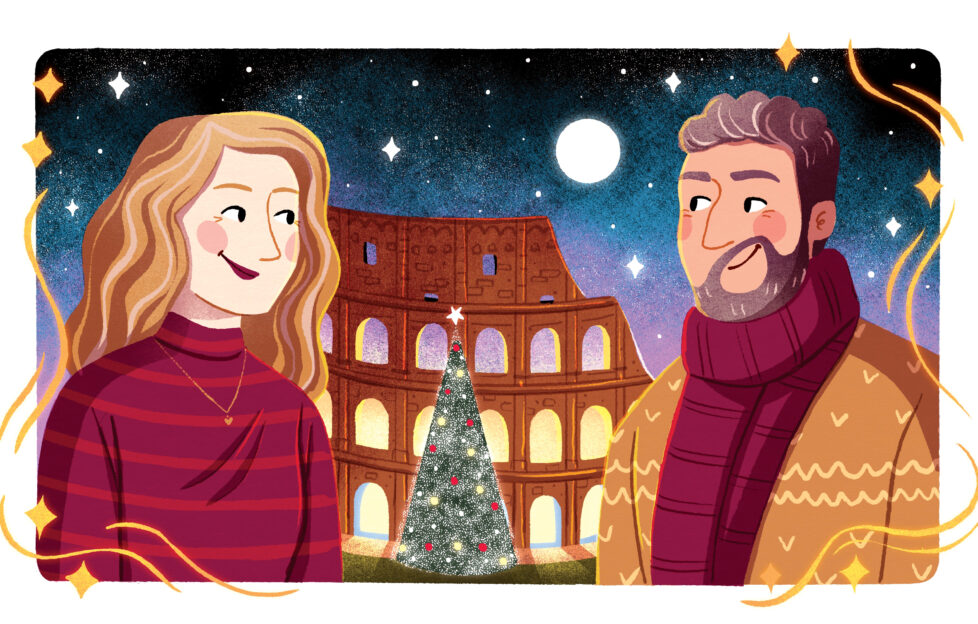 Illustration by Sarah Holliday.
Welcome to a sneak preview of the seasonal stories you'll find in the "Friend" Christmas Special 221, on sale Wednesday, 10 November.
Fourteen brand-new festive stories
Our opening story is "Family Matters", set in 1973. Every year, jet-setting Aunt Penny shows up for the festive season to disturb her family's quiet life! Rebecca Holmes' short story, illustrated by Kirk Houston, welcomes you to this Christmas Special.
Our next story takes place in romantic Rome. Sonia finds that teaching English gives rise to many different conversations. "Can We Talk?", by Stefania Hartley, has an illustration by Sarah Holliday (above).
We're "Snowbound!" next, and one newlywed finds herself angry and alone after an argument. Find out what happens next in this seasonal short story by Lynda Franklin, which is illustrated by Shutterstock.
Feel-good Christmas reading
Generational wisdom is passed down in our next story, set in the 1500s. "Glad Tidings", by Alison Carter features super period artwork from Tracy Fennell.
Father Christmas is missing, in Nicola Martin's "Where Is Father Christmas?". With artwork from Ruth Blair.
Noelle has mixed feelings about Christmas, because it's also her birthday – but no one ever seems to remember! "Remember The Date", by Eirin Thompson, has a Shutterstock illustration.
Sara hates clichés – but she'd still like a traditional proposal, in "A Grand Gesture", by Lynne Hallett. Artwork by Mandy Dixon.
An eight-page festive long read
We go back to the 1890s for our Christmas long read – "In The Bleak Midwinter", by Pamela Kavanagh. When a young girl goes missing, the race is on to find her before the festivities. Illustration by Ged Fay.
Nell's brother is home on leave and brings a handsome friend with him, in "Home For The Holidays". Written by Alyson Hilbourne and set during WW2, it's illustrated by Ruth Blair.
In "Especially For You", by Jacqui Cooper, it's time to arrange the office Secret Santa – and romance is in the air! With a Shutterstock illustration.
Midwife, Carol, is always extra-busy at Christmas. "Be My Baby" is by Jenny Worstall. Illustration from Shutterstock.
We're in the 1960s for our next story. With no trains on Christmas Eve, Annie is stranded at the station! "Back On Track", by Kate Blackadder, is accompanied by Sarah Holliday's artwork.
A lovely Christmas read
France is the perfect setting for a romantic festive break, in Laura Tapper's "Paris In December". Artwork by Shutterstock.
A young girl secretly attends her employers' ball, in "The Girl Behind The Mask", by Lynda Franklin. With a Shutterstock illustration.
Christmas is a time for family, in our final story – "A Special Time Of Year", by Eirin Thompson. Artwork by Philip Crabb.
---
We hope you enjoy the "Friend" Christmas Special! In fact, we'd love to hear some feedback from you, so why not get in touch with us on Facebook and Twitter to let us know what you think?