Fiction Sneak Peek: December 4, 2021 Issue
---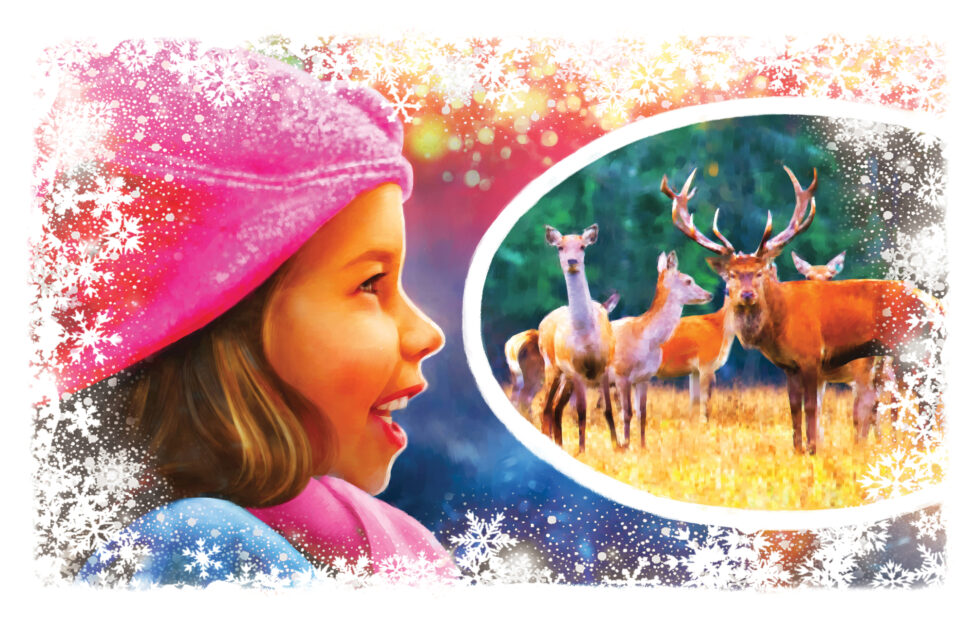 Illustration by Kirk Houston.
A very warm welcome to the first of our December 4, 2021 issue — our Christmas bumper issues!
Here's a quick look at the fiction you'll find inside.
Eighteen brand-new short stories
"A Cinderella Story", by Eirin Thompson, welcomes you to this first Christmas bumper issue. Ivy goes to the Singles Christmas Ball – will her Prince Charming be there?  With an illustration by André Leonard.
We have a debut author, next — a warm welcome to author Greer Glover. How can Janet make a Christmas wreath when someone is stealing holly from right under her nose? "Being Crafty" features a Shutterstock illustration.
Melina is NOT overjoyed to be asked to play the Befana, in Stefania Hartley's "Naughty Or Nice". Artwork by Jim Dewar.
Can a school reunion solve a decades-old mystery? Find out in "The Case Of The Missing Coins", by Alison Wassell. Illustrated by Ged Fay.
Jeff firefighting days are sadly over. But Santa comes to the rescue, in an unexpected way. "Here Comes Santa Claus" by Liz Filleul is illustrated by Helen Welsh.
Christmas in Puritan times
We go back to 1647 for our next story, and Puritan rules look like putting paid to Christmas celebrations. But the spirit of Christmas is alive and well . . . "Songs Of Joy", by Alison Carter, is illustrated by Sailesh Thakrar.
Chloe helps at an accident scene, and it helps her realise what she must do this Christmas. Gabrielle Mullarkey's "A Time For Togetherness" is illustrated by Jim Dewar.
Little Maisie spots reindeer near her home and is convinced they belong to Santa. But where's Rudolph? Kirk Houston illustrates Beth Watson's "Waiting For Rudolph" (above).
It's Harry's first Christmas without his beloved Ava, and her thoughtful, handmade gifts. "Made With Love" by Enid Reece is illustrated by Helen Welsh.
Two debut authors
We have another debut author, next – a warm welcome to Steven Burford. Teacher Miss Dring finds it tricky to place the class troublemaker in the Nativity Play. Find out what happens in "No Room", illustrated by Mandy Murray.
Fiona is cajoled into helping at a Christmas jumble sale, but her heart isn't in it, in Hilary Spiers' "Second Thoughts". Artwork by Kirk Houston.
In Pam's salon, one customer will have a busier Christmas than most! "Cutting It" by Glenda Young is illustrated by Shutterstock.
Maureen and Jean help a Christmas dream come true, in "Horses For Courses", by Eirin Thompson. Illustrated by Ruth Blair.
"A Wing And A Prayer", by Sharon Haston, is next. When unexpected circumstances cancel Christmas in 2020, a little Divine Inspiration can help. Illustration by Jim Dewar.
Celebrating the joy of Christmas
Things get competitive when people from the new-build area try to compete in the Christmas Light Extravaganza. "Lights On Foxglove Close" by Vanda Inman is illustrated by Shutterstock.
A chauffeur turns up only to find that his passengers for the evening aren't quite as expected! "The Hen Night" by Karen Houseman, is illustrated by Ruth Blair.
We go back to the Australia of the mid-1800s, and a grandmother recollects the story of her life, in Liz Filleul's "Dreams Come True". Kirk Houston is the illustrator.
In our final short story of this issue, Winifred is facing a future without her mum. A caring neighbour and a positive attitude make all the difference. "It Takes A Family", by Katie Ashmore, and set in the 1970s, is illustrated by David Young.
Serials
In the final part of "Christmas Wishes", will Daniel's parents offer Louisa a warm welcome? Jan Snook's festive serial features illustrations throughout by Sailesh Thakrar.
And in Part Five of "Darkest Before Dawn", one of the Czech soldiers who'll be staying with the Pollards has caught Isobel's eye. Teresa Ashby's wartime serial features artwork by Mandy Dixon.
A new serial starts in this issue – "Secrets In The Walls", by Louise McIvor. Will their new home bring Cassie and Rob everything they hope for? Set in the 1990s, artwork is by Sailesh Thakrar.
In the Final Part of "Darkest Before Dawn", the fighting is over, but celebrations are bittersweet until loved ones return. Teresa Ashby has set her serial during World War II. Mandy Dixon illustrates.
An exciting new serial starts next issue.
Series
In Glenda Young's "Riverside", Mary can't help worrying about the heavy snowfall.
And there's a reflective feel to this week's "Read All About It", when Carrie finds a flier advertising a service at St Cuthbert's, for those who've lost a loved one during the year. Written by Eirin Thompson.
---
Has our December 4, 2021 issue left you wanting more? Don't worry! Our new issue is in shops soon.
Did you know that subscribers receive their issues early? Click here for more info. 
You can also choose a digital subscription, and read the "Friend" on your tablet, smartphone or computer. It's the perfect option to avoid any pesky delivery trouble!