Fiction Preview: Special 204
---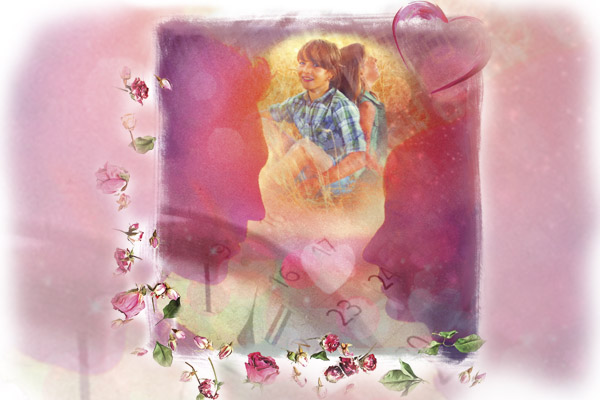 Illustration by Mandy Dixon.
"The People's Friend" Special 204 is on sale Wednesday, February 10.
Here's a look at the fiction that's inside . . .
The opener
Our opening story is "As Time Goes By", by Lynda Franklin. As children, Ruthie and Paul were close. Does getting older really mean growing apart? Find out in this romantic Valentine's story, illustrated for us by Mandy Dixon.
Suzie can't stop thinking about a pair of shoes, even though they're not to her usual taste. It's time to try something new in "If The Shoe Fits", by Patsy Collins.
A grandmother wants to see her grandson putting down roots in our next perceptive short story. "They Grow Up So Fast" is by Angela Lanyon, and has an illustration from the Shutterstock Picture Library.
Can Russell find a way to let Amanda know just what she means to him? Laura Tapper's heart-warming short story, "A Mark Of Friendship" is set in the sixties and illustrated by Jim Dewar.
Nursery worker Shona knows she shouldn't have favourites, but there's something endearing about little Lorcan…and his dad! Eirin Thompson's "That's My Boy!" is illustrated by Ruth Blair.
Alison Carter's "Up In The Air" is next. Laura has come to realise that husband, Ed, prefers to take a back seat when it comes to decision-making. Might he make even one decision, on their winter getaway?
And the Special continues . . .
A brother and sister feel the pressure of family expectation in our next story, Gabrielle Mullarkey's "Go Your Own Way". With an illustration by Philip Crabb.
We're back in 1971 for our next story, set against the backdrop of decimalisation day. Switching over to a whole new currency is going to take a whole lot of getting used to, in "When The Penny Drops", by Ewan Smith, illustrated by Jim Dewar.
Our next story is set in romantic Rome. Two fading stars of the silver screen get the chance to resurrect their careers. But can they work together? Stefania Hartley's "Stars Of The Past" is illustrated by Andre Leonard.
An unwelcome visitor makes an appearance in Alyson Hilbourne's "Mouse Trap!".
A couple reconnect in Yvonne Frederick's "Something Missing", set in the 1940s and illustrated by Sarah Holliday.
Speech therapist Glenda's ability to help comes to the fore in debut author, Ella Walworth-Bell's enchanting short story, "The Magic Touch".
In "Walter's Stores", Sharon goes against her mother's wishes and takes a job at the local greengrocer's, instead of completing her studies. It wasn't her first choice of job, so can she be happy there? Teresa Ashby's lovely short story begins in the 1970s.
The closer
Becky's a tiny bit resentful of her mum's super-capable demeanour. But why is mum hiding dog biscuits in the utility room? Find out in Pauline Bradbury's gentle short story, "New Tricks", illustrated by Kirk Houston.
---
For more from Fiction Ed Lucy, read her blog here.
And remember, you can subscribe to make sure you never miss another "Friend" Special. In fact, we'll have them delivered straight to your door! Click here for more information.