Fiction Preview: Special 210
---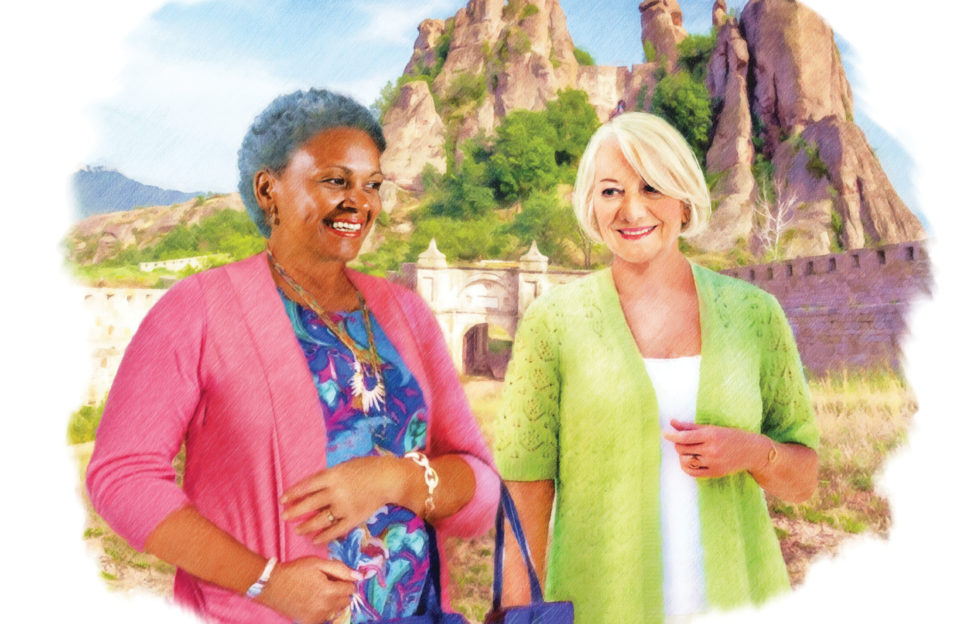 Illustration by Ruth Blair.
"The People's Friend" Special 210 is on sale this Wednesday, June 16.
As in every Special, we have fourteen brand new stories for you to enjoy. Let's look at them now!
Our opener
In our opening story, two friends go on holiday to celebrate their retirement. But is retirement what they both want? "Friendship And Futures" by Katie Ashmore is illustrated by Ruth Blair (above).
Teachers Sadie and Robin are visiting a theme park, but are rollercoasters really their "thing"? Find out in Lynne Hallett's "Ride It Out".
Busy mum, Mel, doesn't have enough hours in the day, in Alyson Hilbourne's perceptive "Make Time For Fun", illustrated by Sarah Holliday.
Amy is staying with her gran for a year, in Val Bonsall's "For Your Own Good". Usually, they see eye to eye, but lately – who's keeping an eye on whom?! With a summery illustration by Andre Leonard.
One woman reflects on the events of the past year in the poignant "Mum's Music Box", written by Meg Stokes.
Little Ellie has chosen to wear a Christmas jumper for the last day of term. Find out why, and have a tissue handy,  in Alyson Hilbourne's moving "Christmas In July".
In Rosemary Gemmell's "A Healing Touch", one young girl must save an injured man's life. A man who seems to be on the run…With a period illustration by David Young.
And there's more . . .
Irish immigrant, Sinead, arrives in America in our next short story, "Land Of Promise". There she meets Edward, working on behalf of a local mission. By Alison Carter, our story set in 1895 is illustrated by Helen Welsh.
Georgie and her flatmates are looking for "Mr Perfect". Find out if he exists in Laura Tapper's fun short story, illustrated by Mandy Dixon.
A recently-retired schoolteacher finds herself at a loose end, until she realises children still need her. "The Sunshine Café" is by Eirin Thompson.
After Philip's mum left for Australia without him, his dad sacrificed a lot to raise him by himself. It's never too late to look for love, in Joanne Duncan's heart-warming "Two's Company". With a lovely illustration by Manon Gandiolle.
Spending lockdown cooped up in the house together has made Jackie and Steve realise how little they now have in common. Marie Penman's "Back To Happiness" is illustrated by Kirk Houston.
A new house is borrowed, rather than bought, and a tradition carried on, in Teresa Ashby's "Gifts In The Attic". Illustrated by Pat Gregory.
Our final story
When a well-known radio presenter writes a book, which photo will be chosen to appear on the back cover – a recent one, or something more . . . flattering? "A Face For The Radio", our final story of this Special, is written by Glenda Young.
---
We hope you enjoy Special 209!
And remember if you love our fiction you can subscribe to the "Friend" Special today, to make sure you never miss another issue. In fact, we'll have them delivered straight to your door! Click here for more information.
"Reading Between The Lines", our fiction podcast, is another great source of stories. Click here to start listening!