Fiction Sneak Peek: Our Winter Special
---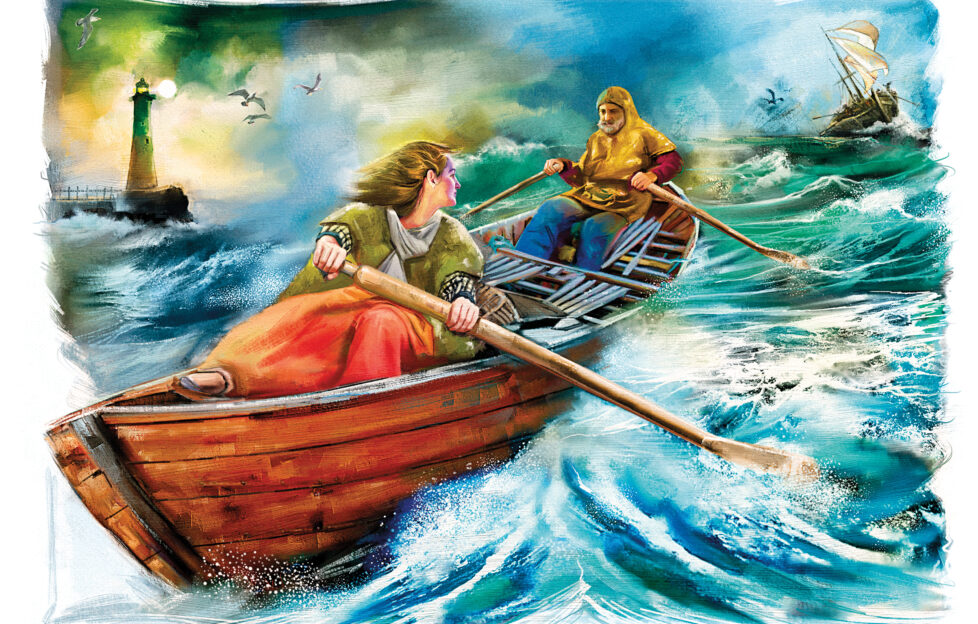 Illustration by Sailesh Thakrar.
Hello and welcome! Let's look at the fiction that's waiting for you in our 100-page Winter Special, on sale Wednesday, December 1.
Twenty brand-new stories
Why are Paul and Sandy's customers changing their buying habits? Find out in our opening story, "Corner Shop Confusion", by Fiona Thomson. Illustrated by Mandy Dixon.
With her checklist of questions, will Jackie find the right person for her? "Ten Out Of Ten", by Laura Tapper, has a Shutterstock illustration.
Our next story occurs in 1780. Painting a portrait, talented artist, Guy, doesn't know how he'll feel about the sitter. "Captured In Oils", by Alison Carter, has artwork from Helen Welsh.
A warm welcome to a debut author
We have a debut author next! A warm welcome to Sara Partington. Her short story, "Spark Of Inspiration", sees one woman thinking of the perfect costume for a space-themed party…illustrated by Shutterstock.
"In Her Shoes", by Carol Probyn, is next. Unassuming Liz wants to be more spontaneous, and a pair of red shoes might just help! Artwork from Kirk Houston.
Old friends Bill and Harry have never forgotten a lesson they learned as boys. "When We Were Young", by Jessma Carter, is illustrated by Philip Crabb.
Brought to this country during the war, Esther now finds someone is looking for her. "Stars In Their Eyes", by Teresa Ashby, is illustrated by David Young.
Wonderful winter reading
A daring rescue changes lives in Shona Partridge's dramatic "Turn Of The Tides". Artwork (above) from Sailesh Thakrar.
Betty is missing. But granddaughter, Lily, is sworn to secrecy! "Where's Betty?" by Teresa Ashby, is illustrated by Ged Fay.
Companionship appears in many guises, as we see in Alyson Hilbourne's "Worth The Wait". Jim Dewar illustrates.
Romance and excitement
We go back to 1880 and a mysterious figure appears just before Christmas. What can it mean? "The Faithful Companions", by Kitty-Lydia Dye, features artwork by Sailesh Thakrar.
A missing coin brings people together in Laura Tapper's "Find A Penny". Artwork by Andre Leonard.
Sometimes those who seem strongest need the most guidance. "Helping Hands", by Gabrielle Mullarkey, is illustrated by Jim Dewar.
A thoughtful gift is at the heart of "The Perfect Present", by Patricia Belford. Artwork by Manon Gandiolle.
A problem shared is a problem halved, in "A Little Help", by Katie Ashmore. Illustration by Jim Dewar.
A feel-good read
An art class brings back memories in Val Bonsall's  "The Art Of Giving".  Artwork by Shutterstock.
"The Bare Necessities", by Alison Carter, is next – and reserved Lucy has always focused on family rather than friends. Is it time to make a change? Illustration by Sarah Holliday.
Catherine's hairdresser announces her retirement in "A Cut Above" – but she's so much more than a hairdresser, she's a trusted friend. By Alison Wassell, with an illustration from Jim Dewar.
Tom loves his bees, but can they help love blossom? "What's The Buzz?" by Sue Cook, has artwork by Shutterstock.
We go back to 1976 for our final story. In "Love Ever More", by Teresa Ashby, Polly signs up for a dating agency. But will it help her find romance? Artwork by Mandy Dixon.
---
We hope you enjoy the "Friend" Christmas Special!
In fact, we'd love to hear some feedback from you, so why not get in touch with us on Facebook and Twitter to let us know what you think?