Fiction Sneak Peek: July 18, 2020 Issue
---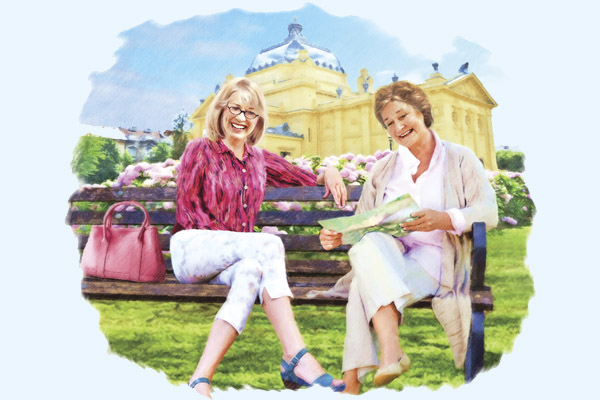 Illustration by Ruth Blair.
Do you get excited by the sound of the "Friend" sliding through the letterbox? Take a sneak peek at the stories you can expect to find inside!
Short stories
Our opening story this week spins dreams as well as wool. Set in 1812, Pamela Kavanagh's "At The Love Spinning" has a lovely illustration by Sailesh Thakrar.
A chance conversation leads to a short break in Krakow for Maureen and Jean in "Destination Poland". You'll feel like you're on holiday, reading this thoughtful short story by Eirin Thompson. Ruth Blair illustrates all of our "Maureen and Jean" stories.
In "Cold Water Swimming", by Cilla Moss, Anna cajoles her friends into going for a dip…
Don Pericle comes to the rescue of a bride with cold feet in our next story, "Stop The Wedding!", by Stefania Hartley. He cancels the ceremony, blaming it on a ghostly curse. Helen Welsh illustrates all of our Don Pericle stories.
In "A Change Of Plan", Em's family pack her off to spend the holidays with her mum's cousin, Iris. The plan is for Em's friend Belinda to join them, but then plans change…This gentle family story is by Penny Alexander, with an illustration by Ruth Blair.
Amanda and her dad are outside A&E, but he just can't face going in. Find out why in "Travels With My Family" by Teresa Ashby. With a sweet illustration by Sarah Holliday.
Seeing a vessel running aground makes a retired couple realise that their relationship is heading the same way – towards the rocks. "Running Aground" by Patsy Collins is thoughtfully illustrated by André Leonard.
Series
The ladies get into a bit of a jam in Jessma Carter's "Living It Up"!
And in Glenda Young's "Riverside", will Carol end her relationship with Joe?
Serials
It's Part Two of Pamela Ormondroyd's "Chasing The Tide" this week. As Nedra and Rhona wait for the train to Swansea, Nedra's talk of the city makes Rhona yearn for a different life…Illustrated by Kirk Houston.
In the final part of "Happy Is The Bride", and the big day is almost here. But can Toby's plans make everyone happy? Our serial by Laura Tapper is illustrated by Ruth Blair.
If this sneak peek has left you wanting more, don't worry! Our new issue is in shops soon.
Did you know that subscribers receive their issues early? Click here for more information on subscribing to the "Friend" today. You'll never have to worry about missing another issue again!
Plus, if you're worried about potential delivery issues, we have a great digital subscription available. This way, you can download every issue straight to your phone, tablet or home computer.