Fiction Preview: Special 202
---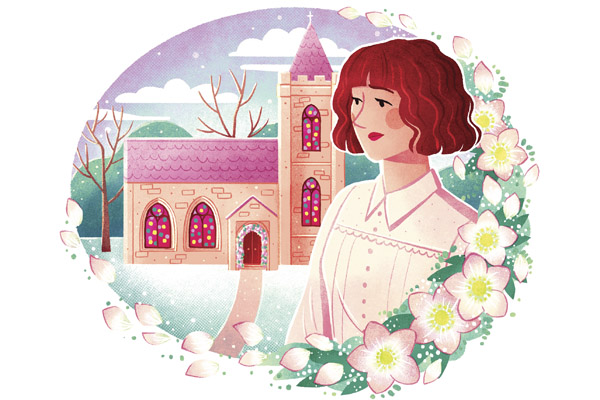 Illustration Sarah Holliday.
Welcome to our final Fiction Preview of 2020! This week, we're giving you a glimpse of the stories waiting for you in Special 202, on sale Wednesday, December 30.
The opener
A holiday is just the break Sophie needs – even if she has no idea how to actually ski! Moira Gee's uplifting "Skipping The Slopes" welcomes you to a brand new Special, and is illustrated by Mandy Dixon.
A young woman finds comfort in our poignant next story, "Beacons Of Hope", by Frances Powell. With an illustration from the Shutterstock picture library.
A boy finds his calling in our next story, "Dogs Aloud", by Helen Yendall, 2000. With a sweet illustration by Martin Baines.
You can tell a lot about a man by his choice of footwear – or can you?! Find out in Yvonne Ayres' light-hearted story, "Don't Look Down", illustrated by André Leonard.
Rachel can't help thinking there's something familiar about the man beside her, in Jessma Carter's moving "Strangers On A Bus". Has she seen him somewhere before? Find out in this thoughtful short story, illustrated by Ruth Blair.
Yvonne decides that she won't spend another New Year alone in Alyson Hilbourne's "A Great Team". With an illustration by Shutterstock.
We're in 1827 for our next short story. The herring season is almost over, and someone has a special gift to give to Morag before she goes . . . Kitty-Lydia Dye's "A Piece Of The Sea" has a fine illustration by Jim Dewar.
. . . and there's more
Meg wants to be happy for Davy. But will his new job take him away from her? Find out why in Alison Carter's intriguing "Beyond The Mill", which is set in the 19th Century, and illustrated by Jim Dewar.
A new arrival brings big changes in "Becoming Auntie Shelley", by Wendy Janes. With a lovely watercolour illustration by Tracy Fennell.
A sister reaches out in our emotional next short story. Alison Carter wrote "On The Air" for us. We've paired it with a great Shutterstock illustration.
 An old photograph brings back happy memories in Eirin Thompson's nostalgic "Friday On My Mind", illustrated by Jim Dewar.
An unusual shopping list is the beginning of a firm friendship in "There's A Hole In My Bucket", written by Eirin Thompson and illustrated by Shutterstock.
When a woman is found dead at her local gym, DI Patsy Hogan isn't convinced it was an accident . . . find out "whodunit" in "Murder At The Gym", by Alyson Hilbourne. Illustrated by Mandy Dixon.
The closer
Siobhan never thought the love of her life would marry someone else.
Find out if she can let the past go in "Winter Of Forgiveness" by Meg Stokes. With a beautiful illustration by Sarah Holliday (main image).
---
For more from Fiction Ed Lucy, read her blog here.
And remember, you can subscribe to our Specials today, and have them delivered straight to your door! Click here for more information.