Fiction Sneak Peek: July 13, 2019 issue
---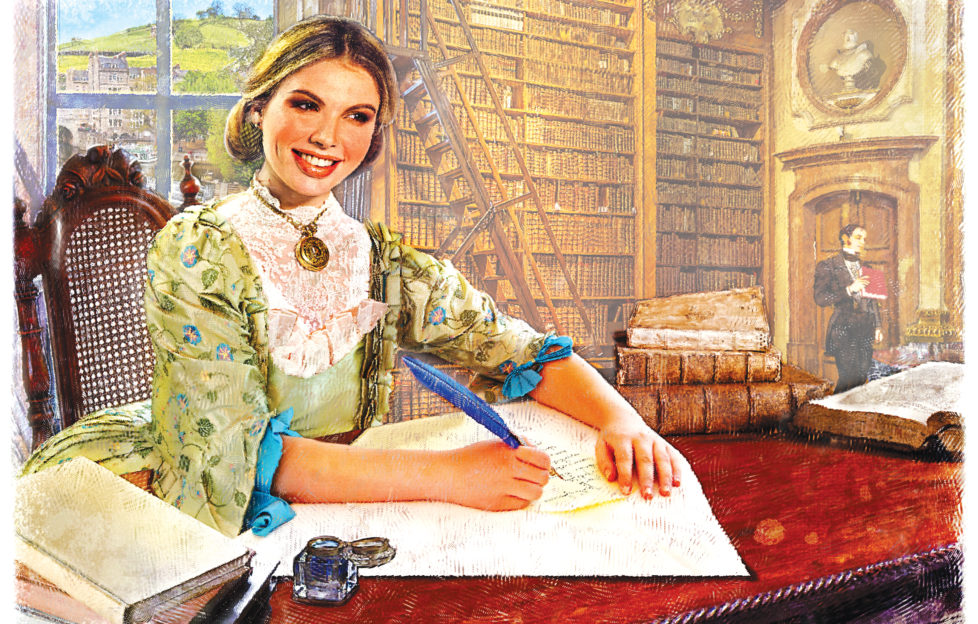 Illustration: Jim Dewar
What a lovely illustration to begin this week's sneak peek.
It's for H. Johnson Mack's "The Reinvention Of Miss Rowley", a charming and fun story set in the 19th century.
It shows that there's definitely still a place for our more traditional "painted" style story illustrations (see yesterday's Illustrator of the Week for more on this!)
In "Love By The Lakes", our opening story by Rebecca Holmes, Ryan hasn't seen Naomi for years, yet here she is, in their special place . . .
"Just My Style" by Val Bonsall is about that female dilemma of when we grow too old to wear a particular style – if we ever do.
We pay another visit to the Villa Lingualarga and our host Don Pericle in "A Village Affair" by Stefania Hartley. But is it the right wedding venue for this particular couple? Illustration: Helen Welsh.
"Magic Touch" by Nicola Martin is the most delightful story – I loved it the second I read, and I hope you do, too.
Jessma Carter always writes with a gentle, couthy style, and her latest story is typical.
In "Making Memories", the friendship of Pat and Janice is the kind of friendship we'd all love. They're both supportive and loving, as they let their young ones fly free. Illustration by Jim Dewar.
I can take a tiny bit of the credit for the next story. It's "Bang Your Own Drum" by Alyson Hilbourne, who wrote it from one of my Writing Prompt Story Starter pics a few months ago. But really, she deserves all the credit for coming up with such a fun story about stepping into the spotlight.
Series
In "Hold The Front Page" by Eirin Thompson, Jo's on hand to offer some valuable advice.
"Riverside", our unmissable weekly soap by Glenda Young, sees the engagement announcement doing the rounds. But that's not the only big news in town . . .
Serials
Harriet's busier than ever, but still finds time to investigate a bit of a mystery in "Waiting In The Wings" by Joyce Begg. This lively serial is illustrated by Ruth Blair.
In "A Ten-pound Promise", our Australia-set serial by Jan Snook and illustrated by Mandy Dixon, this week's instalment sees Jean meet Jim's wife . . .
Happy reading!
Want to know more about this issue? Click here to read Lisa's Features Sneak Peek or Liz's knitting preview.